Posts tagged
Charity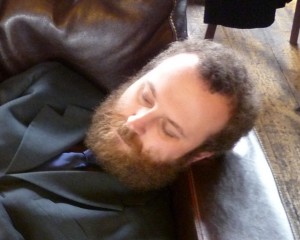 QUICK LINK TO FUNDRAISING PAGE
Some of you know that I have been getting a bit beardy over the last few months so it's time to tidy myself up.  But before I do that it's time to make a mess of my head for charity first.
I thought about doing Movember again but the rules state that you have to shave on the first of the month which seemed a shame to shave it all off just to grow it again.  So, I figure I'll charge people money to attack my hair in whatever way they want.  I have been attacked with a razor before and I usually end up looking very strange although my hair has never been this long to begin with.
As I don't work in an office any more I thought I would take over Thames Valley Social Media Cafe at the Alto Lounge on the 18th Nov 2010 and as this is a day before Children In Need it's only right to support Pudsey, a great cause.  If you can't make it then I'm sure there will be lots of pictures after the event.
The rules (not set in stone)
A donation allows you to attack my beard.
The size of the donation is proportional to how long you get with the clippers.
If you can't be there then someone else will do it on your behalf.
If over £100 is raised then the hair on my head is on offer!
No shaving of eyebrows (sorry).
I will keep the final look for the rest of the day.
I do have a business meeting on Monday though!
Feel free to bring hair colours or clips etc
If anyone else has any hair trimmers as I'm not sure mine will cope!
Have I missed anything?  So please sponsor me and lets raise some money for a great cause.
Update: 18 Nov 2010
It's now done and thanks to all of you I have raised a stonking amount for Children In Need. Currently £222.61 with a couple more donations promised.  Thank you all.  I'll leave you will a little video and some pictures from today

People donated money to do whatever they liked to my head. All money was donated to Children In Need and I think I got off quite lightly!
N.B. This is a backdated post as I take some of the things I have been doing elsewhere on the interwebs and add them to this site

All the sponsorship money is finally in from the Goodwood Roller Marathon. It's been a long hard job but I was so extatic when I calculated all the money we had in our account that was for the charity (bucket shakes, donations, etc.) and it worked out to the penny! I am pleased to announce that Goodwood Roller Marathon has raised £2141.48 for The NCYPE. Even better, the charity should be able to claim GiftAid on every penny which brings the grand total up to £2741.09 from the event! I could almost kid myself that I'm looking forward to organising next years!