I know, I know, it's "Inline Skating" and not "Rollerblading" but I wasn't going to argue (Rollerblades are to Skating what Hoovers are to Vacuums, it's a brand name).  Anyway!…
A few months ago the local newspaper did a shout out via their twitter feed looking for people for their "I Love My" section.  Always looking for free publicity I replied back saying that I'd be happy to do something about my skates and skating in the local area.  We swapped details and I never heard any more, I figured they had dropped me for someone more exciting.
Last week, I received a phone call from the Surrey Hants Star Courier asking if I still wanted to do it, Of course I jumped at the chance.  Unfortunately I had now committed to being attacked for Children In Need and so the photo shoot was going to be me with full on face fuzz!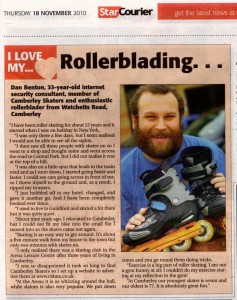 Not a bad interview at all.  I'll never be able to get them to add everything in, I had talked about Goodwood Roller Marathon and the Winter Sessions at Sandhurst but they mentioned Cskate and the Arena so I'm happy 🙂